Mobile fencing and barriers
Mobile fencing
Currently, HAKI a.s. offers two basic fencing systems. System of mobile fencing in length modules 1,5 m and 3,0 m with the height 2,0 m generally used for the fencing of building sites, market places, exhibitions etc.
For the fencing of a private property, gardens, playgrounds etc. HAKI a.s. offers a fencing posts and struts (braces) in the module height of 1,6 m, 2,0 m, 2,2 m ( according to required netting heights).
The emphasis of both systems is primarily on the fast assembly without the use of a special tools. Surface treatment: galvanising or a special paint. 
Pedestrian Barrier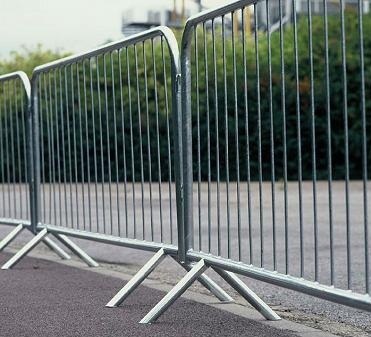 Pedestrian Barriers are the most popular product in the pedestrian segregation range. We offer a variety of different barries types and sizes, however in general all barriers are manufactured with a formed tubular frame and offer a choice between a welded mesh and a solid bar infill. As standard, all barrier systems are hot-dip galvanized for durability.
Applications and Benefits
This is a robust product in the pedestrian segregation range and is designed to segregate pedestrians from traffic, machinery and potential hazards. This product clearly marks out areas for walkways, equipment, guidance and building organisation. Used in warehousing, manufacturing, airports, maintenance pit protection and around any relevant building inside or out. Extras such as gates, sign boards and kick plates are easily added.